Horsens Municipality
A place of great culture and growth.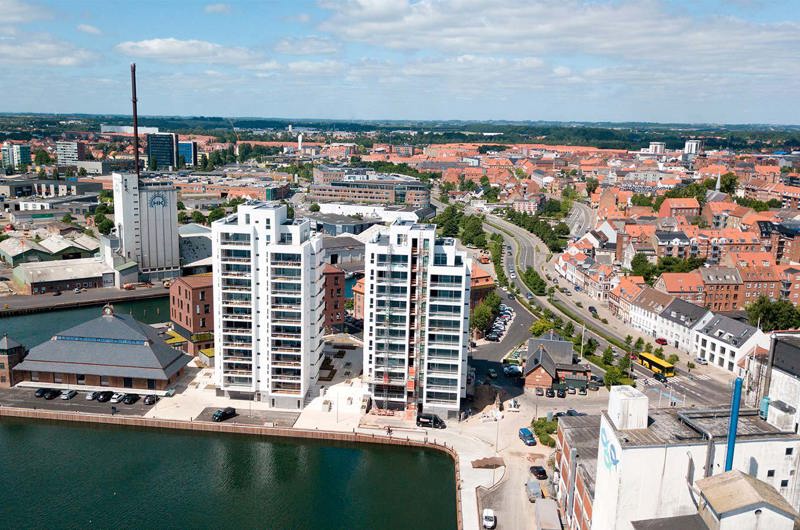 The business climate in Denmark ranks as the best in Europe according to The World Bank's Doing Busines Report 2016.
Doing business in Denmark has proven to be fast, efficient and profitable. The country also offers highly skilled employees, a famously flexible labour market and a stable business environment. 
The Danish motorway network and public transportation system are modern, nationwide and optimised for growth.
Horsens is located in the centre of this network. With our own commercial harbour and nearby international airport, Horsens is the perfect spot for distribution of goods as well as for attracting labour.
Horsens is among the top 3 growth regions in Denmark, attracting people, business, international students and investments.
Along with the Copenhagen region, we are at the top of the list as far as population projections show – so far until 2040.
More than one million people live within 45 minutes of Horsens. The workforce is well-educated, flexible and naturally English-speaking.
90,000 live in The Municipality of Horsens. An unemployment rate below the national average is a clear indication of our region's positive growth. 
We invest in education. You will have excellent opportunities for recruiting specialised staff from our abundance of tech schools and colleges or managers and academics from the region's universities and business schools.
We have an international campus with thousands of international students that will bring exciting new research and cultural knowledge of new markets into your business. 
Traditionally, Horsens and the Central Region, which Horsens is a part of, are really strong within food, energy, clean-tech, logistics and housing construction.
Some of the country's biggest corporations within these industries are located here. 
Business parks, retail stores, manufacturing plants, storage facilities, investment properties – we have available space to rent or buy for establishing your business in Horsens.
There is also a wide selection of building sites available on attractive locations with a highly developed infrastructure. Some right next to the motorway. Prices start at 110 DKK pr. m2.
Horsens is a cultural beacon with a wide selection of activities for residents and visitors – from stadium concerts to street art and events for kids.
You will find great nature sites with biking and trekking routes, beach and coastal activities, an urban style city centre where people shop, wine & dine or just hang out in parks and recreational areas. 
Find more about living in Horsens.
Out of Horsens' more than 3,600 private businesses, a great variety of international corporations have chosen Horsens for their Danish/Scandinavian representation. They include:
ABUS-Gruppen Nordic A/S (Germany) 
Air Liquide Danmark A/S (France)
Amada (Japan )
Amcor Flexibles Raackmann A/S (Australia)
Atria Danmark (3-stjernet) (Sweden)
Batavus Danmark (Netherlands)
Becker Danmark A/S (Germany)
Colas Danmark A/S (France)
Lantmännen A/S (Sweden)
LGT Logistics A/S (Sweden)
Makita (Japan)
Metso A/S (Findland)
Reitan Distribution A/S (Nrway)
SCA Packing Flamingo A/S (Sweden)
SMC Pnermatics (Japan)
West Pharmaceutical Services Danmark A/S (USA).
Below, you will find resources to help you sort out the specifics on establishing business in Denmark. All advisory services are free of charge:
Horsens' proactive business council is your guide to all things business in Horsens. It is a non-profit network organisation dedicated to boosting business development and securing the Horsens region as a prime location for doing business.

Invest in Denmark
Investor-perspective information on why investing in the world's best country for business is a wise decision.

International Network Horsens
Relocating to a new country goes smoothly when you can reach out to a network of local volunteers who have been through the transition themselves.

Business Development Centre Central Denmark
A non-profit organisation, established to help both national and foreign entrepreneurs in the central region of Denmark.
Let's talk business
Horsens Municipality's Head of Business Development Jeppe Keller Jensen is your one-stop entry point to all things in Horsens.
Reach out to him for more information on Horsens or to discuss business opportunities. He is the stepping stone to your Danish business ventures. Whether you need staffing or advice on buying or renting business premises, Jeppe is at your disposal.
Jeppe Keller
Head of Business Development
Phone: 51 49 02 42
jkej@horsens.dk